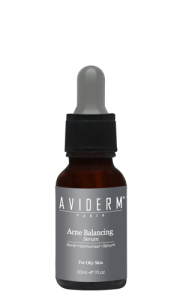 ACNE BALANCING SERUM
Application
A highly concentrated serum specially formulated for congested, excessive secretion of sebum and acne problem skin. It helps to remove excessive sebum, clarify pores clogging, anti-bacteria and anti-septic to prevent infection。It also helps in repairing of wounds, soothes inflammatory and maintain skin hydration balance. Acne prone remarkably reduced and diminished, skin restored at healthy stage.
Active Ingredients
Sophora Flavescens, Aloe Barbadensis (Aloe Vera) Leaf Extract, Lavender, Honeysuckle, Vitamin E
Direction Of Use
After cleansing and toning, apply Acne Balancing Serum on face, followed by Rectifying Cream. To be used day and night.
Suitable For
Oily – Acne skin
Pusat Kecantikan di Damansara Damai
Pusat Kecantikan di Aman Puri Kepong
Skin Care Salon in Aman Puri Kepong
Skin Care Salon in Damansara Damai
Skin Care Salon in Bandar Sri Damansara
Aviderm Outlet in Kepong Rawang Petaling Jaya
Aviderm Paris Skin Care Product
Aviderm Malaysia
Skin Care Salon in Kepong 甲洞美容院
Herbaline Kepong Sothys Kepong Sothys One Utama Sothys Menjalara
Beauty Salon In Bandar Sri Damansara
The best eyebrow embroidery in Kepong 
Kepong纹眉 Kota Damansara纹眉 Subang纹眉 Rawang纹眉