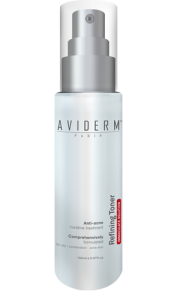 REFINING TONER
A refreshing Refining Toner specially formulated for oily and acne skin, helps in regulating sebum secretion, refining pores, soothes sensitive skin with signs of redness and swell, with anti-septic effect to prevent infection, leaving skin fresh and calm.
Active Ingredients
Chamomile Essence, Cucumber Extract, Witch Hazel, Mint
Direction Of Use
Spray the toner on a cleansed skin, gently pat dry. Alternately, spray on cotton wool and gently wipe on face, followed by suitable serum and treatment cream. Additional recommendation : Spray Refining Toner on cotton wool ,compress on sensitive area for 5 – 10 minutes to reduce redness and swell and for anti-septic.
Suitable For
Oily / Combination Skin – congested and acne skin
Pusat Kecantikan di Damansara Damai
Pusat Kecantikan di Aman Puri Kepong
Skin Care Salon in Aman Puri Kepong
Skin Care Salon in Damansara Damai
Skin Care Salon in Bandar Sri Damansara
Aviderm Outlet in Kepong Rawang Petaling Jaya
Aviderm Paris Skin Care Product
Aviderm Malaysia
Skin Care Salon in Kepong 甲洞美容院
Herbaline Kepong Sothys Kepong Sothys One Utama Sothys Menjalara
Beauty Salon In Bandar Sri Damansara
The best eyebrow embroidery in Kepong 
Kepong纹眉 Kota Damansara纹眉 Subang纹眉 Rawang纹眉