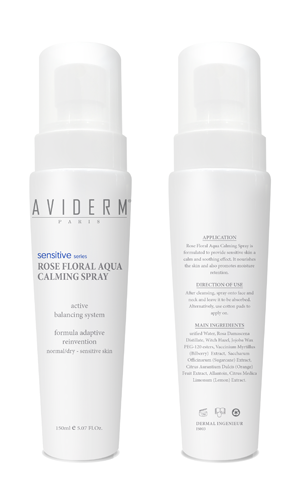 Calming / Refreshing / Balancing
Application
With natural rose fragrance to keep skin refresh and calm after spraying. It soothes and hydrates dry,  stress-induced damage skin while keeping skin PH balanced and restores surface hydration. It softens skin surface to prepare the beneficial penetration from the next skin care use.
Active Ingredients
Rose Damascena Distillate, Witch Hazel Extract, Citrus Aurantium Dulcis Extract, Allantoin.
Direction Of Use
Spray sparingly onto face and neck, pat dry followed by appropriate skin care. To be used day and night after cleansing.
Suitable For
Normal / Dry – Sensitive Skin
Pusat Kecantikan di Damansara Damai
Pusat Kecantikan di Aman Puri Kepong
Skin Care Salon in Aman Puri Kepong
Skin Care Salon in Damansara Damai
Skin Care Salin in Bandar Sri Damansara
Aviderm Outlet in Kepong Rawang Petaling Jaya
Aviderm Paris Skin Care Product
Aviderm Malaysia
Skin Care Salon in Kepong 甲洞美容院
Herbaline Kepong Sothys Kepong Sothys One Utama Sothys Menjalara
Beauty Salon In Bandar Sri Damansara
The best eyebrow embroidery in Kepong 
Kepong纹眉 Kota Damansara纹眉 Subang纹眉 Rawang纹眉