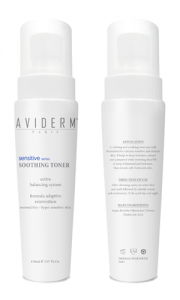 Soothing Toner
Soothing / Hydrating / Balancing
Application
A calming Soothing Toner specially formulated for extreme sensitive and delicate skin. It consists of anti-inflammatory and moisturizing properties, helps to alleviate irritation while restoring skin PH at its balance and hydration. Skin reveals soft, fresh and calm condition.
Active Ingredients
Aqua, Recutita (Matricaria) Flower, Hyaluronic Acid
Direction Of Use
Spray sparingly onto face and neck, pat dry followed by appropriate skin care. To be used day and night after cleansing.
Suitable For
Normal / Dry – Hypersensitive Skin
Pusat Kecantikan di Damansara Damai
Pusat Kecantikan di Aman Puri Kepong
Skin Care Salon in Aman Puri Kepong
Skin Care Salon in Damansara Damai
Skin Care Salin in Bandar Sri Damansara
Aviderm Outlet in Kepong Rawang Petaling Jaya
Aviderm Paris Skin Care Product
Aviderm Malaysia
Skin Care Salon in Kepong 甲洞美容院
Herbaline Kepong Sothys Kepong Sothys One Utama Sothys Menjalara