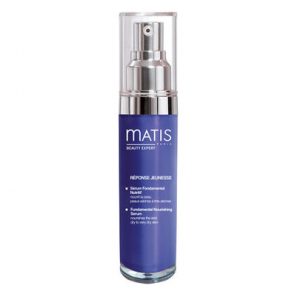 Product Description
A new targeted answer combining pleasure, softness and efficiency.The Fundamental Nourishing Serum provides an immediate comfort to very dry and dry skins. A fluid, light, non greasy , slightly onctoueus and melting texture which penetrates rapidly. Helps restore essential lipid reserves and rebuild the natural barrier of the epidermis.Content : 30 ml
APPLICATION:
Morning and/or evening
Apply to cleansed skin, before the usual daily skincare, all over the face and neck, avoiding the eye area.

MAIN ACTIVE INGREDIENTS:
WHITE LUPIN EXTRACT : stimulates the synthesis of the epidermis structure proteins and improves the barrier function.
DUO OF PLANT BUTTERS :
– Shea Butter : regenerating and softening properties.
– Shea Illipe : moisturizing and emollient properties
CRANBERRY EXTRACT : its antioxidant properties help the skin to maintain its youthful reserves.