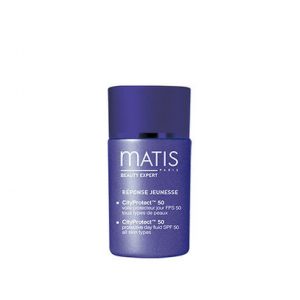 Product Description
SPF 50 protective day fluid.
City ProtectTM 50 is the ally of all citizens. With its unique formula which melts into the skin and their 50 sun protection UVA UVB sunscreens, it applies in a flash and protects the skin from pollution, UV rays and free radicals. Its nomadic size is very practical and fits in the bag.
With a UV protection
APPLICATION:
In the morning, apply to the face and neck after cleansing, onto the usual cream. Reapply as often as needed during the day directly on the makeup.

MAIN ACTIVE INGREDIENTS:
PURPLE ORCHID EXTRACT : it is known for its emollient, soothing and protective properties.
CRANBERRY EXTRACT : rich in polyphenols, this is an important antioxidant. It helps the skin maintain its youth.
UVA/UVB FPS50 FILTERS